---
Fetal Alcohol Syndrome, A preventable tragedy!
---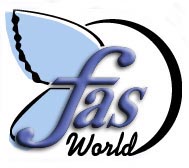 Every year on the 09.09. an International group of Foster/Adoptiv/Biological parents and Professionals belonging to FASworld, hold International FAS Day. On this day events are held throughout the world in 11 different time zones helping to create awareness for this preventable tragedy. Country´s taking part include:- U.S.A. Canada, Australia, New Zealand, England, Scotland, Germany, Sweden and Austria among others.
---

Fetal Alcohol Syndrome is the biggest cause of non-genetic mental handicap in the western world and the only one that is 100% preventable. Approximately 2200 children are born each year in Germany with Fetal Alcohol Syndrome. The number of children born each year without the physical anomilies but with mental retardation and behavioural problems is offically calculated to be between 10,000 and 15,000 a year in Germany alone.
---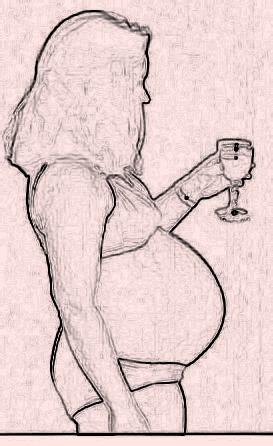 You can say NO, your BABY can´t !!
---
FAQ ABOUT FAS/E
---
WHAT IS FAS/E?

Fetal Alcohol Syndrome/Effects is the name given to a variety of damage caused to a baby when the mother drinks alcohol during pregnancy.

WHAT ARE THE SIGNS/SYMPTOMS OF FAS/E?

Babies are too small, underweight, have slack muscle tone, typical facial anomolies include:- Thin upper lip, low nasal bridge, fold on inner eyelid, flat midface, short nose, indistinct Philtrum ( The ridge between upper lip and nose is barely visable) Fetal Alcohol Syndrome/Effects also causes:- Permanent brain damage from mental retardation through to severe mental handicaps. Microcephalie, Speech impediments, Hyperactivity, Heart and Eye disorders, Genital deformities, behavioural problems (Autismus, agressiveness, impaired social skills) and more.......

BUT SURELY YOU HAVE TO BE AN ALCOHOLIC TO HAVE A CHILD LIKE THIS?

This attitude is dangerous! "Normal" everyday drinking and binge drinking can also cause damage. In Germany between 10,000-15,000 babies are damaged this way every year. (Löser 1999)

HOW MUCH IS A PREGNANT WOMAN ALLOWED TO DRINK?

No amount of alcohol has ever been proven to be safe for a developing child. (Löser 1999)This means that the only truly safe amount is NONE!

WHAT SORT OF FUTURE CAN THESE CHILDREN EXPECT?

Even children with a "mild" Fetal Alcohol Syndrome/Effects are unable to persue "Normal" schooling.(See Secondary Disabilities)

WHAT CAN I DO TO HELP?

You could, for instance, write to the German Ministry of Health, asking why there are no warnings on Alcoholic beverages here in Germany. Even though Germany is one of the worlds top Alcohol consuming countries. Or to your own if your country doesn´t have such warnings. You could also write to the European Parlament supporting FASworld Germanys private petition for warnings on drinks.(See FASworld News) You could also join FASworld and help us raise FAS awareness.
---
"Mum, why was I born like this, why aren´t I like all the other Kids?" (FAS Kid 9)
---
LINKS!
FAS/FAE/ARBD/ARND (Information on Alcohol related disabilities)
WHAT HAPPENS WHEN? (How alcohol effects a baby in each trimester)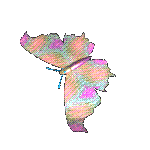 FASWORLD; THE BUTTERFLY REVOLUTION
---
FAS Facial Features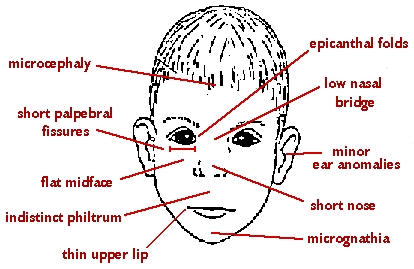 Diagram of FAS facial characteristics in the young child.
( From Streissguth and Little 1994)
---
FASWORLD NEWS!
FASworld Germany has made it through the first round with a private Petition appealing for warnings on Alcoholic beverages to the European Parliament!

If you would like to support this Petition, Please write to:-

Subject: Petition 21/2000 Committee on the Enviroment,Public Health and Consumer Policy of the European Parliament, Rue Wiert, B.P. 1047B-1047 Bruxelles

Thank you in advance from all children with FAS!

MPs from all political parties voted Monday night for a motion in favour of placing warning labels on all liquor sold in Canada.

The motion calls for the labels to help prevent Fetal Alcohol Syndrome and other birth defects. The warning, which will be required on all alcoholic beverages sold in Canada, reads: "WARNING: Drinking alcohol during pregnancy can cause birth defects." MPs voted 217 in favor of the labels and 11 against.

The Guttempler Organisation will be supporting FASworld Germany on the 09.09.2001 with Information Stands in different areas of Germany!

Prof. Bernhard Schwitchenberg, well known German Designer/Artist is supporting FASworld Germanys Poster competition in 2001!

FASworld has now been joined by Austria!

Nasdijj, author of the book "The blood flows like a river through my dreams" has signed FASworld Germanys English guestbook!

FASworld Germany has been interviewed for an article in "Baby" magazine, which is given away free in every chemists in the country. Available in March in all chemists!

"Boozing is dangerous for your health""Asgaard" (Schleswig) is the first brewery to put warning lables on it´s own product!

FAS UK will be supported in 2001 by all florists in the town of Wigan, England!

FAS UK has had Posters sponsered by the Wigan Head Office of JJB Sports, a company with over 600 countrywide shops. Students at the Dept. of Art and Design, Wigan and Leigh College at Pagefield Mill Wigan have created the posters.

Bonnie Buxton (FASworld worldwide Coordinator) is in the process of writing a book about FAS which will hopefully be published world wide!

The wife of the Canadian Prime Minister made a FASday proclomation in Calgary!

"Donovan" sang in South Africa while Carillions played!

Govener Perry stood in for Govenor Bush and made a FASday proclomation in Texas!

In New York a FASday Proclomation was made by Govenor Pataki.


---
"Mum, do you think God will give me a new face, everyone calls me Monkey and Granny face!" (FAS Kid 7)
---
FAS KIDS
Pictures and personal stories of children with FAS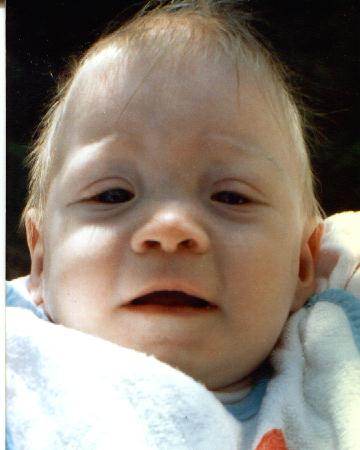 ---

Alcohol is a great dissolver, it dissolves:- Families, Marriages, Friendships, Careers, Brain and Liver cells. The only thing it doesn´t dissolve are PROBLEMS!
---
More great FAS sites!
FASWORLD
FAS UK
FAS SCOTLAND
ANN STREISSGUTHS PAGES
FAS COMMUNITY RECOURSE CENTRE
TRIUMPH PROJECT
FAS IN ADULTS; LONG TERM OBSERVATIONS (Prof Löser, Münster)
---
BIO MUMS PAGE!
Click HERE for a Bio Mums Perspective!
---
Video´s to Lend ! (free)**

---
Grand Rapids Conference, 1-2 Nov. 1999

1) Ann Streissguth, PH.D. "Secondary Disabilities of FAS" 85 min.

2) Sterling Clarren, M.D. "FAS a Preventable Tragedy" 88 min.

3) Debra Evensen, M.A. "Strategies for the young child" 84 min.

4) Debra Evensen, M.A. "Creating Success at Home with Younger Children with FAS" 70 min.

5) Diane Malbin, M.S.W. "Adolescents and Adults with FAS" Try Differently, Not Harder! 76 min.

6) Sterling Clarren, M.D. "Development of a FAS Diagnostic und Prevention Network" 54 min.

7) Ann Streissguth, PH.D. "A Unique Approach to Interventions for Women" The Parent-Child Assisteance Program. 100 min.

** Post and package extra, only within Europe!
---
Mailing Lists
---
FASLINK:- A worldwide self help group, where Parents, Adults with FAS and Professionals offer constant support to all members. Information on Conferences, new research ect.
Click here for FASLINK
---
FASAE:- Same as Faslink, only for German speakers, important information from FASlink is translated and posted on fasae!
Click here to subscribe to FASAE
---
"In the first class it was nice and I was happy to go. But now everythings harder and when Volker tells me something I can hear him but it doesn´t go in proper. Did you know Mum, my brains not like everybody elses, it just doesn´t work sometimes!" (FAS Kid, 12)
---
ALCOHOL
This babe so small, just four months old, seven pounds, not much at all. Placed in our arms to love and care,the rest of our lives with us to share. Unlike the other babes we´d had, this babys face looked old and sad. A pitiful bundle light to hold, this baby damaged by alcohol.

Brain to small to ever grow, and learn the things she needs to know. Cleft palate that would hinder speech, and eyes that out to us did reach. Tube in the nose with which to feed, a child who really had no need, of milk and only felt the pain, of needing just one drink again.

Sleepless nights and through them all, this baby suffering from withdrawl, eyes that asked to help her through, the pain that she was going through. We did for her just all we could, the therapies we knew we should, but how it hurts when we must find, she´s mentally four years behind.

And now at eight and oh so small, this child who hardly grew at all, so full of life, yets wants to know "Why is it Mum that I don´t grow" ? So off we go now once again , on the ride of the therapy train, and pray to God one day we´ll see, her grow as she was meant to be.

The advertisments never show, a child like her who´s dealt the blow, of living life right from the start, different and set apart. So pregnant women eveywhere, if you must drink please think of her, it´s time the whole world got to know, of these babys damaged by alcohol

Ann Gibson 1996.
---
Please sign my guestbook!
Read my guestbook!
---
Download FASworld Germanys "Say NO!" to alcohol in Pregnancy sticker!
---
---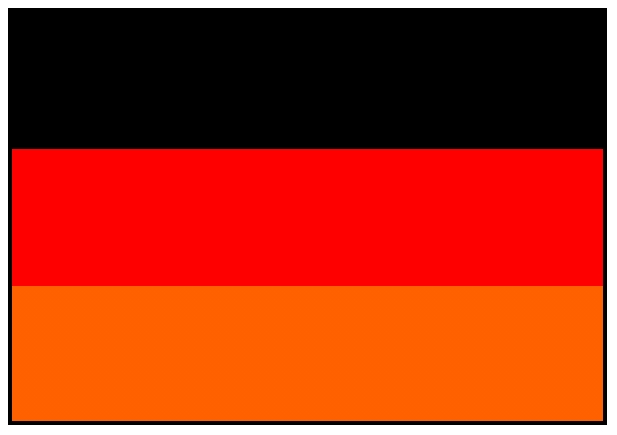 This site in German!
---
Ann Gibson, FASworld Germany, 23.04.2001